Enjoy Dance: First Dance Wedding Special
02.22.12 | Posted in: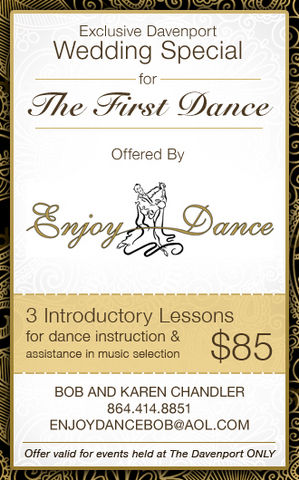 Exclusive Davenport Wedding Special for The First Dance. Offered by Enjoy Dance. This limited offer includes 3 Introductory Lessons for dance instruction and assistance in music selection for only $85. This offer is valid for events held at The Davenport ONLY.
Bob Chandler, Certified Instructor, started Enjoy Dance 15 years ago when the studio where he was teaching in Asheville, North Carolina closed. He has been teaching for over 20 years. The Davenport has been the home of Enjoy Dance since January of 2007. Enjoy Dance is the exclusive teaching service of The Davenport. Bob says, " I want people to enjoy dancing," hence the name Enjoy Dance!!!
In addition to dance instruction, Enjoy Dance offers dance parties, dance performance opportunities, Dance Cruises,travel opportunities and other dance activities.
Dancing is a proven way to improve health. It activates brain cells, it is great exercise, and you meet people while having fun. It covers the mental, physical and social aspects of well being. So get started Dancing today!
Dance lessons are available for:
· Social Dancing
· Choreography
· Weddings
· Special Occasions
· Private Lessons
· Group Lessons
· Couples
· Singles
· Beginners to Advanced
· Youth to Adult
· Ballroom ~ Latin ~ Shag

Private Lessons available Monday - Friday

Ballroom Group Classes
Starting Wednesday, February 29, 2012
Beginner 8pm
Intermediate 7pm
$40 for a 4 week session

Shag Group Classes
Starting March 1, 2012
Beginner 7pm
Intermediate 8pm
$40 for a 4 week session
Visit Enjoy Dance's webpage for more info...
Bob and Karen Chandler
864.414.8851
864.415.7848
enjoydancebob@aol.com