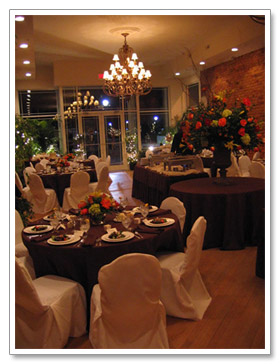 The Davenport, located in historic downtown Greer, SC is the perfect place to host your upcoming wedding or your wedding reception. Just minutes from Greenville and Spartanburg, this newly renovated space offers everything you need to make your special day both memorable and affordable. Hardwood floors, antique chandeliers and the exposed brick wall provide an elegant setting for weddings and receptions. The historic charm of the flexible space, combined with the new modern features provides everything you need to make your event truly unique. It's your day, and we at the Davenport will make sure it's a success. The Davenport can hold up to 210 people. Parking is free and abundant, and all available tables, chairs and linens are all included in the rental fee.
For more information about holding your Greenville wedding reception or your Spartanburg wedding reception at the Davenport, please contact us and we'll work with you to create to make your event a success.
There are many floor layouts for a variety of events. Here are some general guidelines.
The round tables shown in the diagrams below are 60" round, which can seat 8-10 people
The maximum for a sit down dinner is 140 people, with room for buffet tables. This is a spacious layout and is limited to 140 primarily by the fire code.
The maximum for a standing/mingling reception is 210 people.
While we can accommodate a large crowd, groups of 50-70 will not feel over-whelmed by the banquet hall.
Layout: #1: Reception/Dance
(Seating for 90, Total Capacity 200)

Layout: #3: Reception/Dance
(Seating for 90, Total Capacity 200)

Layout: #7: Reception/Dance
(Seating for 120, Total Capacity 140)

Layout: #8: Reception/Dance
(Seating for 120, Total Capacity 140)

Layout: #9
Wedding/Reception for 80
Layout: #12
Rehearsal Dinner 'Single Table'